Security and the Law – Is There a Conflict?
Keeping your home secure is a basic principle that every individual follows. Your home is likely your greatest asset and the place where your family should feel secure at all times and therefore you have the legal right to do what you think is best to keep it secure. But is there a conflict between keeping your home secure and the law? Most people have heard of the stand-your-ground defense, a common legal principle sometimes referred to as the castle doctrine. This law received a number of nicknames during the 1980s so you might have heard it called the make my day law as well. Effectively it protects you against prosecution if you have to use deadly force against someone who forcibly enters your residence. In most American states you have no duty to retreat once an attacker unlawfully enters your property which means you can stand your ground and secure or defend your home. Plenty of other states have similar laws that say things like you cannot use deadly force to defend your home unless you believe that you will be eminently injured or killed and some states have laws that stipulate you can not only defend your home but your vehicle and your place of employment. 23 states have self-defense laws that protect you under certain circumstances where you are defending yourself and your family.
Home Security Laws
There are no single, federal set of laws that address things like where you can put home security cameras. However, you might have laws on a state, county, or local level that control things like audio and video recording. This is particularly true if you are a member of a homeowner's association which could restrict the installation of exterior cameras. Federal law generally applies to audio eavesdropping or surveillance but doesn't hinder your ability to record video around your home for the sake of security. Many states stipulate that you can have security cameras in your home so long as they don't violate a reasonable expectation of privacy. This means that places like changing rooms, bedrooms, or bathrooms shouldn't have cameras because most people expect privacy in these areas. However, a doorbell camera or an exterior camera around the perimeter of your property are perfectly fine.
Similarly, you have to be careful about video surveillance versus audio surveillance. United States Code, Title 18, Section 2510, states that you cannot record someone with audio unless they all know that they are being recorded. Yes, plenty of people record without permission on smartphones and post them online but this technically violates the same code and could be grounds for a civil crime if pursued. Have you ever called customer service to talk about a bill and heard the recording that for quality assurance or training purposes you would be recorded? This is the company's way of protecting themselves against any potential lawsuits by informing you that you are going to be recorded with audio and by saying on the line you have consented.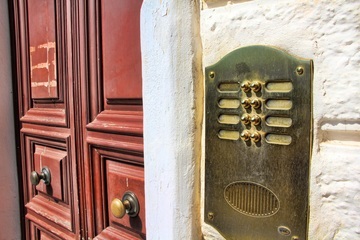 It is illegal to surreptitiously record any audio when consent is not given and in some states they have a two-party consent law which states that everyone has to understand that they're being recorded and give their permission whereas states with a one-party consent law simply say that if you are part of the conversation yourself you can record it. What does this mean for home security? It means that your security system can't have audio but it can have video surveillance.
Home Security – Defending vs Securing Your Home?
There are of course still measures you can take to legally secure your home with a residential locksmith beforehand assuming you follow the appropriate laws. You can have security cameras or security systems installed by a professional and if your area or municipality requires that you register it, the company installing the system will typically apply for that registration on your behalf. Professional locksmiths can install security systems or locks that adhere to all of the laws regarding the defense and security of your home such as pointing a camera so that it doesn't accidentally film a neighboring property, setting up a speaker through the security cameras at your front door that aren't overly loud but still set off a noticeable alarm. you can also install things like smart doorbells as long as the professional locksmiths Point them at your property so that you can still give your neighbor's privacy but record anyone who comes to your front door.